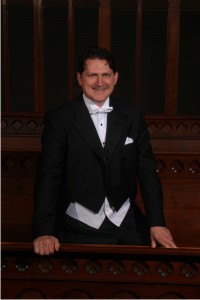 Ric Jones is the founder and owner of Imagine Music, a publishing company that sells original instrumental and vocal music, arrangements, commissioned works, as well as educational and curricular materials. Ric received both his Bachelor and Master Degrees in Music Education from Ithaca College (NY).
Currently, Ric serves as the Director of the Middleport Community Choir (NY) and Musical Director of the Genesee Chorale (Batavia, NY). He is also the organist and Music Director at St. Peter Lutheran Church in Medina (NY), and organist at Trinity Lutheran Church in Wolcottsville (NY).
His educational experience includes directing high school bands, marching bands, pep bands, and chamber ensembles at Corinth High School (NY), Cincinnatus High School (NY), Greater Johnstown High School (NY), Cicero-North Syracuse High School (NY), Medina High School (NY), and Fonda-Fultonville High School (NY).
Ric has also served as Principal Trombonist with the Tri-Cities Opera Orchestra, St. Cecilia Orchestra, and the Gerald Wolff Singers Orchestra.
In addition to his musical endeavors, Ric enjoys being a freelance web designer. He is an active member of the Orleans Renaissance Group, Inc., a volunteer organization dedicated to revitalizing the arts, culture and architecture in Medina (NY). Ric also serves on the staff of the Oak Orchard Review, an online literary and art magazine that features writers and artists from the Western New York region.
Ric resides in Medina (NY) with his wife Karen, and their three children, Nicholas, Ryder and River.